This page describes the color codes used in our network and phone cabling. Most of this information can be found online but it is not always all found in one place and this specifically explains situations that are unique to our campus.
Ethernet
There are two standards for wiring Ethernet jacks and plugs. They are known as T568A and T568B the two standards are nearly identical but they swap the Orange and Green Pairs:
T568A
Pin
Function
Pair
Color
1
TX+
2
White/Green
2
TX-
2
Green
3
RX+
3
White/Orange
4
Unused
1
Blue
5
Unused
1
White/Blue
6
RX-
3
Orange
7
Unused
4
White/Brown
8
Unused
4
Brown
T568B
Pin
Function
Pair
Color
1
TX+
2
White/Orange
2
TX-
2
Orange
3
RX+
3
White/Green
4
Unused
1
Blue
5
Unused
1
White/Blue
6
RX-
3
Green
7
Unused
4
White/Brown
8
Unused
4
Brown
In every known case on our campus data network jacks, plugs, pannels etc. are wired using the T568B standard. It should be noted that while pairs 1 and 4 are listed as unused this is not entirely true. In the case of 1000BaseT networking the extra pairs are used for transmitting data. Also when Power Over Ethernet(PoE) is used the power is actually carried on these pairs.
It should be noted that in some cases we purchase patch cables that happen to be wired by the T568A standard. This is not a problem as long as both ends of the patch cable are wired T568A and they will work identical to the ones wired T568B on both ends.
While I've listed the colors as White/Blue for example meaning a White wire with a Blue trace stripe on it in many cases the actual wire may not look like that. In several locations the white wires don't actually have stripes. You have to be careful to keep track of which White wire is twisted with which colored wire in those cases. I've also seen where the orange and brown wires are extremely difficult to tell apart. Sometimes they like to make them semi transparent allowing the copper wire to show through. I suggest you get the best light you can when you are matching the color codes.
Making a Crossover
A 10/100BaseTX cross over cable can be used when connecting one computer to another or when connecting one switch to another. To make a 10/100BaseTX cross over cable all you have to do is wire one end of the cable as T568A and the other end as T568B.
10/100BaseTX Crossover Pin Outs
Pin
Function
⇄
Pin
1
TX+
⇄
3
2
TX-
⇄
6
3
RX+
⇄
1
4
Unused
⇄
4
5
Unused
⇄
5
6
RX-
⇄
2
7
Unused
⇄
7
8
Unused
⇄
8
A 1000BaseT cross over cable is a little different because the pairs 1 and 4 actually carry data so they have to be crossed over as well.
10/100BaseTX Crossover Pin Outs
Pin
Function
⇄
Pin
1
TX+
⇄
3
2
TX-
⇄
6
3
RX+
⇄
1
4
Data
⇄
7
5
Data
⇄
8
6
RX-
⇄
2
7
Data
⇄
4
8
Data
⇄
5
Phone
Since we have switch to a VOIP phone systems you shouldn't need this much. However we still have the cable and there are probably a few edge cases where we will still need to use legacy wiring.
Phone color codes have a couple of different schemes. The first scheme developed in the 1940's uses 10 colors in groupings of 5 that repeat after 25 pairs.
First Group
Second Group
Third Group
Fourth Group
Fifth Group
Pair
Tip+
Ring-
Pair
Tip+
Ring-
Pair
Tip+
Ring-
Pair
Tip+
Ring-
Pair
Tip+
Ring-
1
White/Blue
Blue
6
Red/Blue
Blue
11
Black/Blue
Blue
16
Yellow/Blue
Blue
21
Violet/Blue
Blue
2
White/Orange
Orange
7
Red/Orange
Orange
12
Black/Orange
Orange
17
Yellow/Orange
Orange
22
Violet/Orange
Orange
3
White/Green
Green
8
Red/Green
Green
13
Black/Green
Green
18
Yellow/Green
Green
23
Violet/Green
Green
4
White/Brown
Brown
9
Red/Brown
Brown
14
Black/Brown
Brown
29
Yellow/Brown
Brown
24
Violet/Brown
Brown
5
White/Slate
Slate
10
Red/Slate
Slate
15
Black/Slate
Slate
20
Yellow/Slate
Slate
25
Violet/Slate
Slate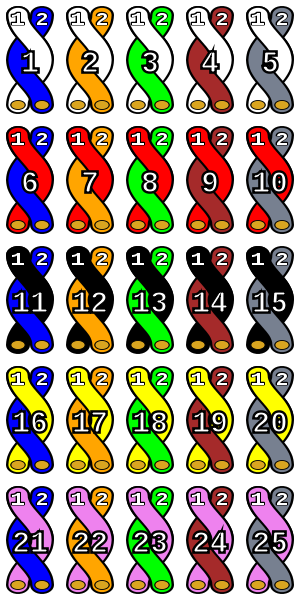 As you can see the first four colors are identical to those used for Ethernet. In fact in many cases we have used Cat5 Ethernet cable in place Cat3. Most of our phone cable comes in 1,2,3, or 4 pair varieties. Obviously larger cables of 25, 50, 100, 200, 300, 400 and up to 1500 pairs have been used in runs between buildings and some wiring closets.
As I'm sure Grady would love to explain to you the terms "tip" and "ring" here refer to the plugs used on the old telephone switch board panels. For our our purposes you can think of them as simply identifying the polarity of the phone connections. I don't think this is as critical on analog phone lines but digital phones will not work if the polarity is reversed so it should be kept correct in all cases.
In cases where the wire is connected to one or more phone jacks the middle pair of pins 4 & 5 on an 8 position jack (RJ45)or pins 3 & 4 on a six position jack(RJ11) should be connected to the White/Blue and Blue pair as it is the first pair. If a second jack is connected to the same cable the White/Orange and Orange pair is used and so on. The tricky part is that if a single line phone is connected to a jack you always use the middle pins. Therefore on the second jack you would be connecting the White/Orange and Orange pair to the pins on the jack that may be labeled as White/Blue and Blue. You see the colors only really represent the ordering of the pairs or pins and their polarity. Not unnecessarily where they should be connected although that is usually the case.
The second color coding scheme using all solid colored wires was widely used in cable before the 1940's but we still see some newer stuff like jack plates using it today. The old color coding went beyond the 4 pairs that I've listed here but it is so old I can't even find the rest of the scheme on the internet. If you find a cable that uses the old scheme and goes beyond 4 pairs it is probably very very old cable.
Old Coding
Pair
Tip+
Ring-
1
Green
Red
2
Black
Yellow
3
White
Blue
4
Brown
Orange
The tricky part is that you still have to get pins 3 & 4(RJ11) or 4 & 5(RJ45) lined up with the tip and ring signals. So you may end up connecting a cable White/Blue wire to Green on the jack and Blue to Red.
Non Color Coded Cable
In some locations we may have some Very old single pair or three wire cable that is not color coded at all. I believe that some of this may still exist in Story and in a few of the houses we own across Madison. If you find this cable you should seriously consider replacing it since it is unlike to meet even Cat3 standards. I think that some of this cable uses a rough surface texture to identify the "ring-" signal wire but I can't promise that. I believe in the case of three wire cable the third wire is a ground but again no promises.
See Also